We are interested in the processes on the formation of new phase in electrochemistry, e.g., electrochemical nucleation process in electrodeposition. These processes are fundamentally important in the battery, electroplating, and fabrication of microelectronics.
The formation of a new phase often would need a process called nucleation. Classical nucleation theory suggests that there is a minimum dimension of the new phase that needs to be formed before the growth of the new phase is energetically favorable as shown in Figure 1.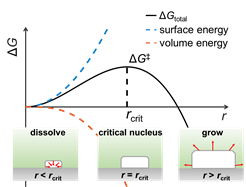 We will use nanoelectrochemical techniques to probe the nucleation process and its dependence on the substrate structure.
Relevant References:
Edwards, M. A.*; White, H. S.; Ren, H.*, "Voltammetric Determination of the Stochastic Formation Rate and Geometry of Individual H2, N2 and O2 Bubble Nuclei." ACS Nano 2019 13 (6) 6330-6340 . DOI: 10.1021/acsnano.9b01015
Wang, Y.; Gordon, E.; Ren, H.*, "Mapping the Nucleation of H2 Bubbles on Polycrystalline Pt via Scanning Electrochemical Cell Microscopy". J. Phys. Chem. Lett. 2019, 3887-3892. DOI: 10.1021/acs.jpclett.9b01414
Blount, B.; Kilner, K.; Hu, H.; Gohmann, D.; Gordon, E.; Wang, Y.; Ren, H.*, "Electrochemically Induced Nucleation of a Nanoscopic Ionic Solid". J. Phys. Chem. C. 2020 124 (31), 17413-17417. DOI: 10.1021/acs.jpcc.0c05009