Principle Investigator
---
---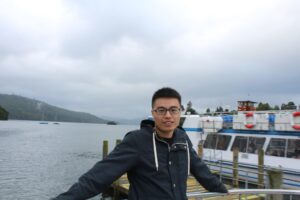 Dr. Mingyang Li
Postdoc Researcher
Mingyang Li received his Ph.D. degree in Physical Chemistry from Sun Yat-sen University in 2017. His research interests focus on investigating nanostructures via SECCM et al. for energy conversion and storage.
---
Yufei Wang
Graduate Student
The University of Texas at Austin (May 2021-)
Miami University (January 2019-May 2021)
B.S., Hebei University (2018)
Yufei received her BS from Hebei University where she worked with Professor Lijuan Wang exploring chiral separation in Pharmacy. She joined the Ren lab in 2019 and was prepared to work on electrochemistry at Nanoscale. In her free time, Yufei enjoys watercolor painting and traditional Chinese painting, watching films, and going to the supermarket.
Brandon Blount
Graduate Student
The University of Texas at Austin (2021 – Current)
Miami University (2019-2021)
York College of Pennsylvania (2015-2019) Chemistry B.S.
From a small town in southern Pennsylvania, during my undergraduate degree, I achieved one internship at MRG laboratories analyzing oil and grease for degradation. I also studied the same grease components MALDI-ToF, to detect degradation levels in the protective additives in the grease/oil. Today my research consists of the nucleation of ionic or metal species utilizing colocalized measurements via nanoelectrodes or scanning electrochemical cell microscopy.
In my personal time, I like to learn about hardware components on desktop and mobile computers. I also like to work on cars. Currently, I have a 1980 Chevrolet K20 pickup truck that hopefully will be restored in the future.
Lei Pan
Graduate Student
The University of Texas at Austin (2020 – Current)
Hi, I'm Lei, from a lake city, fishing from an early age, now working on using scanning ion conductance microscope to study interfacial process in electrochemical catalysis. In my free time, I like playing origami, wandering in libraries, and watching movies.
Simeng Zhang
University of Texas at Austin (2021-current)
B.S Beijing Normal University (2017-2021)
Simeng received her B.S of chemistry at Beijing Normal University in 2021. When she was undergraduate, she has done some research on material science, such as methanol electrical catalyst, NLO materials and supercapacitors. She is currently pursuing her PhD degree in University of Texas at Austin. Her current interest lies in understanding interfacial kinetics and mechanism of different electrochemical reactions occurring on different electrochemical materials using various electrochemical techniques.
Simeng enjoys arts and music very much. She loves watercolor and computer painting very much. She can also play various types of musical instrument, from east to west, like traditional Chinese Xiao, bamboo flute, piano and accordion.
Undergraduate Students
---
Jesús Alberto Muñoz Castañeda
Undergraduate Student
The University of Texas at Austin (2019 – Current)
An international student from Mexico, currently in his third year of a Bachelor in Science Degree in Chemistry. During his time at The University of Texas at Austin, he has previously worked on data mining efforts in Computational Chemistry. After graduation, his plans are focused on Graduate School.
Sammy Koplos
Undergraduate Student
The University of Texas at Austin (2020 – Current)
Kevin S Koh
Undergraduate Student
The University of Texas at Austin (2019 – Current)
Undergraduate, chemical engineering